The National Latino Leadership Alliance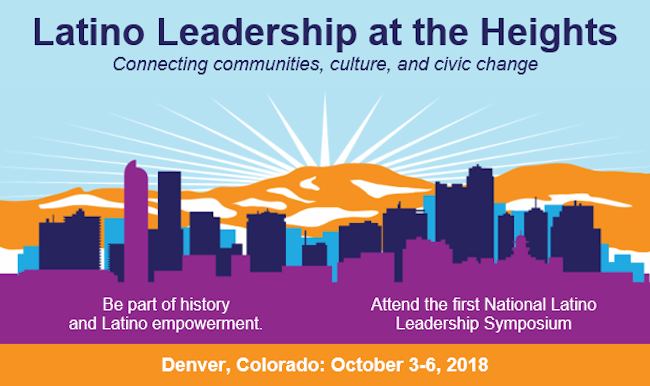 The Symposium will build the leadership capacity of the Latino Community. Latinos are at the Crossroads of Power. By training, connecting and aligning a critica mass of leaders, Latinos will actualize their potential and contributions.

Grow your leadership skills and abilities
Learn the latest tools, techniques, and research
Increase your impact on critical issues in the Latino community
Improve your leadership program and alumni engagement
Strengthen your fundraising and financial sustainability
Connect with Latino Leaders from across the country
Early Bird Registration – June 15: $375 Individual
After June 15: $425
Community/Organizational Group rate for three: $1,000
Registration includes opening dinner and reception, all breakfasts and lunches, community receptions, music, dance, and celebrations!
For more information contact info@lideramos.org.
Special Room Rates
Join us at the Hilton Garden Inn by the beautiful trails of Cherry Creek. Special rate of $129. First ten registrations will get a panoramic view of Rocky Mountains. Reserve Your Room Today.
The Latino Leadership Fellows
Through a partnership with the prestigious Center for Creative Leadership (CCL), LIDERAMOS will offer ten Fellowships to Latino Leadership Program directors and staff each year. Each Fellow attends the one week Leadership Development Program at CCL which is a premiere corporate training organization. Second, Fellows prepare a report on lessons learned and how mainstream and corporate leadership can enhance community programs. Fellows would then come together virtually to share experiences and integrate information. A workshop on the benefits and practical application for leadership programs would be presented by the Fellows at the Annual Symposium.
CLICK HERE for more information and an application
Lideramos Staff Development Program (LSDP)
The LSDP assist staffs who work in Latino Leadership Programs improve their organization and enhance their personal leadership skills. The goal is to provide models that include assessments, coaching, and unique aspects of Latino and mainstream leadership that can be replicated and utilized in leadership programs.
The LSDP is comprised of 3 sessions: a 3.5 day residential intensive with a cohort of 12-15 which includes a train-the-trainer module. The second session builds a virtual community that focuses on applying tools learned and integrating these into their programs. The third is a special track at The National Latino Leadership Symposium where participants learn additional skills, share best practices, and network with other Latino Leadership programs